Sharing and Twitter

Mountain Lion introduces an interface element inspired by iOS—Share Sheets. They're a pop-up menu that appears when you click on the Share icon in an app. Apple has implemented Share Sheets in several Mountain Lion apps, including Safari, Preview, and Notes, and developers can add them to their apps as well.
A Share Sheet provides a quick way to share whatever you're working on—a photo in iPhoto, a webpage in Safari, a document in Notes—with other services. If you share a webpage from Safari, you can choose to insert it (or just its URL) in a new Mail message, or insert a link in a new message in Messages, or even compose a tweet containing the URL. From Preview, you can choose to email the document you're viewing, send it via Messages, tweet it via Twitter, upload it to Flickr, or transfer it locally via AirDrop.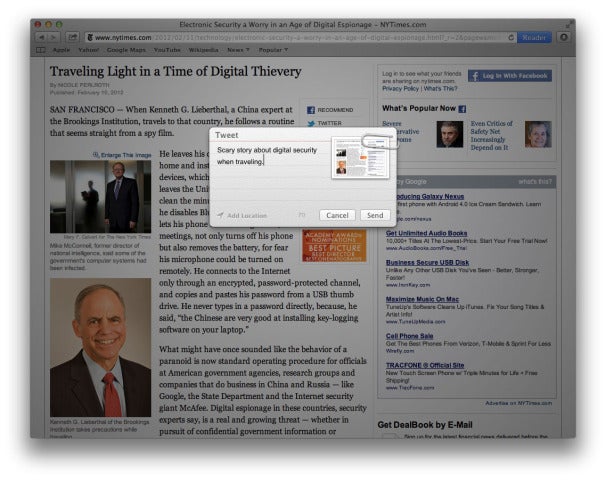 Most of these aren't really new functions. What's different is that Apple has centralized them and given developers access to this element, which presumably will lead to a more consistent sharing interface in future Mac apps. If that sounds familiar, it is: This is once again an example of the Mac taking a page from iOS, in this case from the Share button that's found commonly throughout iOS.
In most contexts, Share Sheets will include a Twitter option. That's because Mountain Lion is joining iOS 5 in adding system-level support for the popular communication service. You can add your Twitter account information in the Mail, Contacts & Calendars system preference (which is just dying to be renamed to Accounts). Once that's done, it becomes easy to quickly share items from just about anywhere via a Share Sheet. Select Twitter and a small floating composition window appears, allowing you to write and send a tweet quickly, without leaving the app you're working in.
Twitter integration doesn't stop there. You can also use Twitter to populate the avatars of friends in your Contacts list with their Twitter profile pictures. (Yes, Address Book has been re-named Contacts in Mountain Lion to match its counterpart app in iOS.) Tweet notifications can also optionally appear automatically in Notification Center.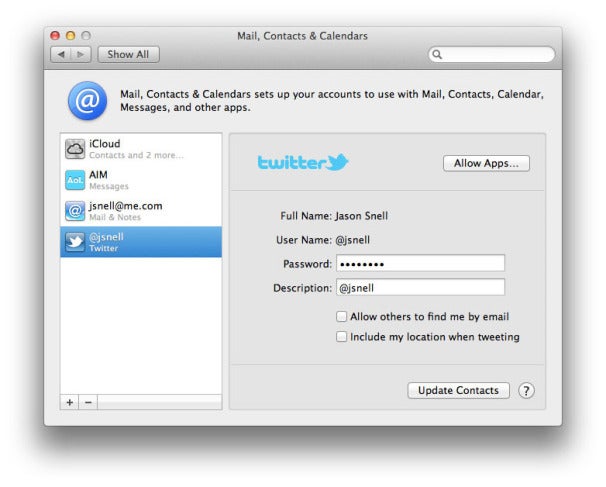 iCloud integration
Lion and iCloud were developed in parallel. As a result, while the current version of Mac OS X supports Apple's suite of online services, it doesn't truly embrace it. One of Apple's goals in Mountain Lion is to truly integrate iCloud throughout the system.
It starts at setup: In Setup Assistant, the system will ask you for your Apple ID and will sync your existing accounts, settings, and personal data. It might not be quite as thorough as restoring an iOS backup from iCloud, but the idea is that your iCloud account will unlock a whole bunch of Mac data so you don't have to keep re-entering it on every new system you use.
Mountain Lion also brings a new Documents in the Cloud view to the traditional Open and Save dialog boxes. Any apps that support Documents in the Cloud will open to an iCloud view that displays documents available via iCloud, with most recent items first. You can organize this view by dragging one document on top of another and creating a folder, iOS-style. (There's also an On My Mac button that will display a more standard file-picking interface, if you want to open something that's on your hard drive.)
AirPlay mirroring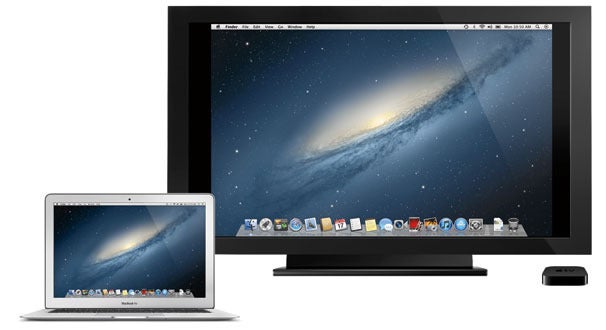 iOS 5 introduced the concept of AirPlay mirroring, in which an iPad 2 or iPhone 4S can display the contents of its screen on any HDTV that's connected to a second-generation Apple TV.
The Mac joins the party with Mountain Lion, which will send a 720p video stream of what's on your Mac's screen to the Apple TV. When a Mac running Mountain Lion senses the presence of an Apple TV on the local network, an AirPlay icon appears in the menu bar. Click and select an Apple TV, and you're mirroring.
In other words, an Apple TV will soon also be a wireless display adapter for the Mac, letting you display webpages, YouTube videos, iTunes rentals, Keynote presentations, or anything else you can think of onto an HDTV without any added wires. (Apple says that only Macs with second-generation Intel Core processors can use this feature.)
Safari tweaks

Apple isn't making a big deal about changes to the Safari Web browser in Mountain Lion, but I noticed a few new additions. There's a Share Sheet in the toolbar, with options to add a page to Reading List, add a Bookmark, email the page, send the page to Messages, or share it via a Tweet. The Safari Reader button has gotten large and now sits just to the right of the address bar, turning blue when a page is eligible for reader.
Gone from next to the address bar is the search box. Instead, at long last, Apple has unified the address bar and the search box. Now if you type "fourth doctor" into that box, you'll get a bunch of links about Tom Baker instead of an error message telling you that Safari can't find the website "http://fourth%20doctor/." The address bar also now omits the http:// prefix on URLs, and while the main part of the site is displayed in black text, the rest of the URL displays in gray.

And although I couldn't find this feature in the version I tested, Apple says tat Mountain Lion will bring the ability to sync Safari tabs to iCloud, so your open browser tabs can sync between Macs.
China-specific features
Apple's had huge success in China lately, most particularly with the iPhone. With Mountain Lion, the company is trying to improve support for those who write in Chinese as well as recognizing that most of the popular sites that Apple integrates with OS X aren't actually available within China.
On the text-input side, Mountain Lion will offer better suggestions and corrections via a dynamically updated dictionary, something an Apple representative told me was because Chinese word usages are evolving rapidly. Apparently English words are often inserted in Chinese text, so Mountain Lion allows the mixing of Pinyin and English without switching between keyboard layouts. Apple says Mountain Lion also doubles the number of characters recognized by trackpad-based handwriting recognition.
On the Internet services side, Mountain Lion offers support for Chinese alternatives to several worldwide services. Search-engine Baidu is now an option in Safari. Chinese microblogging service Sina weibo is supported in Share Sheets, just as Twitter is. In addition to Vimeo and Flickr, Mountain Lion will support sharing to Chinese video-sharing sites Youku and Tudou. And Mail, Contacts, and Calendar syncing will be supported to Chinese service providers QQ, 126, and 163.
Just the beginning
Of course, this is only the first disclosure by Apple about what's in Mountain Lion. There are undoubtedly dozens, if not hundreds, of minor tweaks and small new features being added. And there might even be big ones as yet undisclosed—after all, we're four to seven months away from Mountain Lion's arrival.
If you're a Mac user, the best news about Mountain Lion is this: Apple doesn't seem to be reducing OS X's development cycle and putting it in maintenance mode. Instead, OS X releases seem to be accelerating, perhaps so that the annual release cycles of iOS and Mac OS X can feed off one another.
It's also clear that with both Lion releases, Apple is dead serious about making Mac OS X and iOS as synced up as they possibly can be, both in terms of interface and—thanks to iCloud—data. Mac users who aren't fans of iOS might complain, but these days Apple sells many times more iOS devices than Macs in any given quarter. Having all of Apple's products bear a family resemblance to one another can only help.