Apple updates its iOS mobile operating system once a year. But why should the iPhone and iPad have all the fun? Apple has announced that it will release a new version of OS X — Mountain Lion — this summer, just a year after the release of OS X Lion.
Like Lion, Mountain Lion offers numerous feature additions that will be familiar to iOS users. This OS X release continues Apple's philosophy of bringing iOS features "back to the Mac," and includes iMessage, Reminders, Notes, Notification Center, Twitter integration, Game Center, and AirPlay Mirroring.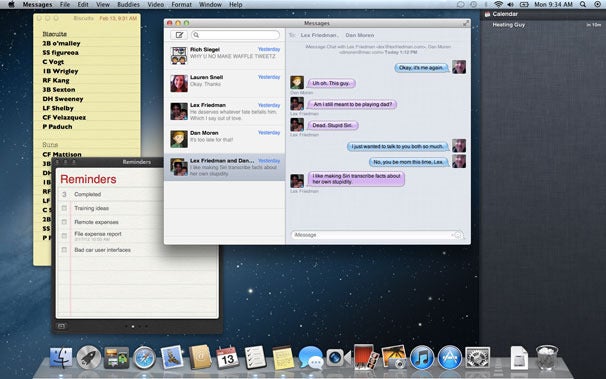 As the first OS X release post-iCloud, there's also much more thorough integration with Apple's data-syncing service. Mountain Lion also brings options to limit which kinds of apps users can install. And although there are no actual mountain lions in China, OS X Mountain Lion does add a raft of features to speak to users in the country that's Apple's biggest growth opportunity.
Mountain Lion will be a paid upgrade to OS X; like Lion, it will be available only via a Mac App Store download. Apple hasn't yet set a price or a release date more specific than "summer." Mac developers will be able to download a developer release of Mountain Lion on Thursday, giving them several months to update their apps to take advantage of the new features in the release.
I've had a few days to use an early development version of Mountain Lion. Here's a look at what's new so far, keeping in mind that Apple may add and change features over the next few months as we get closer to the planned release.
iOS apps come to the Mac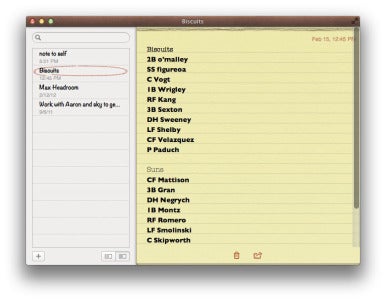 Mountain Lion comes with several new apps that will seem quite familiar to iPhone, iPad, and iPod touch users. Reminders, Notes, and Game Center have all made the move to the Mac.
Reminders and Notes look very much like they do on iOS. And thanks to iCloud syncing, they'll display the same data that shows up on your mobile devices. These are still quite simple apps—the goal seems to have been to provide parity with their iOS analogs. The Notes app does support rich text, so you can choose different fonts, insert photos and attachments, create bulleted lists, and drag in URLs to create hyperlinks.
Game Center was introduced to users with iOS 4.1 in September 2010, and expanded in iOS 5. Now it comes to the Mac, letting Mac gamers find friends and compare their gaming prowess, as well as play against each other. Mac game developers get access to a centralized system for network play, opponent matching, in-game voice chat, and more. And yes, Game Center can work across platforms, so games that run on both Mac and iOS can interoperate.
iChat becomes Messages
There's never been a version of iChat for iOS—instead, Apple handles text messages using the Messages app. That app started life as the Text app, which was used just for SMS messaging on the iPhone, but when Apple introduced the new iMessage communication system, it renamed the app Messages.
With Mountain Lion, the same thing's happening to Lion. All the features of iChat are still there, but the app's been renamed Messages and it now supports iMessage (and is now integrated with FaceTime). You can use Messages to send text or images to anyone on a device capable of using iMessage—namely, devices running iOS 5, and Macs running Messages. Unlike SMS text messages, the iMessage system transfers data via the Internet, so there are no text charges.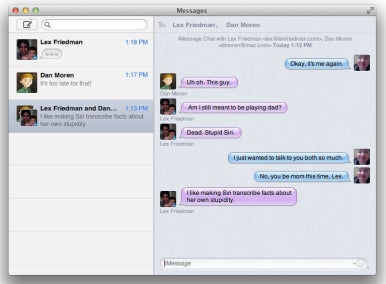 Like Messages on the iPhone, Messages for Mac lets you hold multi-person chats and can optionally let people know when you've received and read their messages and when you're typing a reply. An integrated video-chat button allows you to kick off a video chat with capable devices, either over AIM (as iChat has always done) or by launching the FaceTime app.
For iOS 5 users who have been waiting for iChat to support iMessage, this is great news—but having to wait until Mountain Lion's release this summer would be an exercise in frustration. There's good news on that front: Apple says that Lion users will be able to download a beta version of Messages starting Thursday. The final version will be available in Mountain Lion.
For more in-depth information on Messages, check out our Messages beta hands-on.
Enter Notification Center

Sometimes one of your apps needs to get your attention. For years, many Mac app developers have built their own (think reminder pop-ups in iCal or Microsoft Office). The open-source project Growl has for years attempted to create a more general notification system supported by lots of apps.
With Mountain Lion, Mac OS X gains a system-level notification system accessible to every developer, with features much like those already found in iOS. Alerts appear in the top right corner of the screen in a small bubble. Notifications remain there for five seconds, and then slide off screen to the right. Alerts, on the other hand, remain on-screen until you click on the Show or Close (or in the case of some alerts, Snooze) buttons.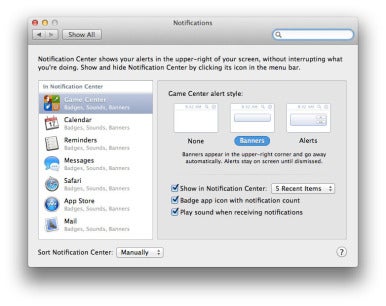 In iOS 5, you see all your recent notifications by pulling down from the top of the screen to reveal Notification Center. In Mountain Lion, the Notification Center list is a narrow band that lives just to off the right side of your screen. You can reveal it either by clicking on the new Notification Center icon at the far right of the menu bar, or by swiping with two fingers starting at the far right edge of the trackpad. Either way, your Mac's entire screen will slide to the left, revealing a list of what's been trying to get your attention recently.
There's also a new Notifications pane in the System Preferences app, analogous to the Notifications submenu in iOS's Settings app. From here you can choose which apps appear within Notification Center and how their alert bubbles behave.
Gatekeeper blocks apps… the first time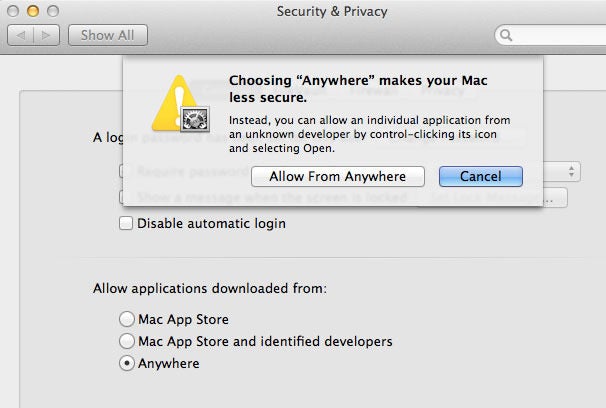 When Apple introduced the Mac App Store, the rumblings started: A lot of people wondered if the Mac was headed for an iOS-like future, one in which only Apple-approved apps could run on the Mac.
But with Lion and now Mountain Lion, those fears haven't become reality. You can still run third-party apps to your heart's content. However, with Mountain Lion, Apple is introducing a new feature called Gatekeeper that allows users to choose for themselves what kinds of apps can be installed on their Macs.
Right now, OS X checks an app the first time it launches, and displays a warning. It's an attempt to prevent malware apps from launching when you never intended them to. In Mountain Lion, that feature has been extended and tied into a new setting in the Security & Privacy pane of System Preferences.
By default, Mountain Lion will only let Mac App Store apps and Apps from "identified developers" launch for the first time. To become an "identified developer," Mac developers have to register with Apple and get a personalized certificate, which they then use to cryptographically sign their apps. Apple doesn't do any sort of background check on the developer, and it doesn't see any of the software.
Apple says that although these apps aren't as safe as Mac App Store apps, they're safer for a couple of reasons. First, a signed app can't be modified (to add in some spyware, for example) without breaking the signature. By default, Mountain Lion will refuse to launch an app modified in that way. Second, if it turns out that an app from a particular developer is actually malware, Apple has the ability to revoke that developer's license—at which point no future Mac users will be able to install software from that developer.
The user can set Mountain Lion to be broader or narrower with the list of apps it's willing to launch. There's an option to allow only Mac App Store software to run, and an option to allow any app to run. The latter option is the equivalent of what's been the case in all previous versions of OS X.
For a more in-depth look at Gatekeeper, read our Hands on with Gatekeeper story.
Next up: An OS X with Twitter at its core...